Well, I can't believe no one replied to this post
(I'm sure Larry has moved on from this issue)
I came across this post today while trying to figure out the F-796A, T-405 edge distance called out in the manual and drawings.
I'm adding my two cents for the builders that may search this subject in the future.
This is my take, if anyone thinks different please jump in.
The manual says: "Double check to be sure you have sufficient edge distance on both T-405 and F-796A. Drill the 1/4" hole through T-405."
There is no hole drilled through F-796A except for the slot already manufactured in the part.
I contend the writer of the manual was confused by the engineering drawings as I was. There are some measurements called out near the the ½" edge distance call out. BUT theses are just reference line to locate approximately were to bend F-796A.
In the drawing below, I erased some of the confusing info that's not needed for this discussion.
I marked the edge distance call out in red. It plainly refers to T-409. The other call outs are for the bend lines...I circled these in blue.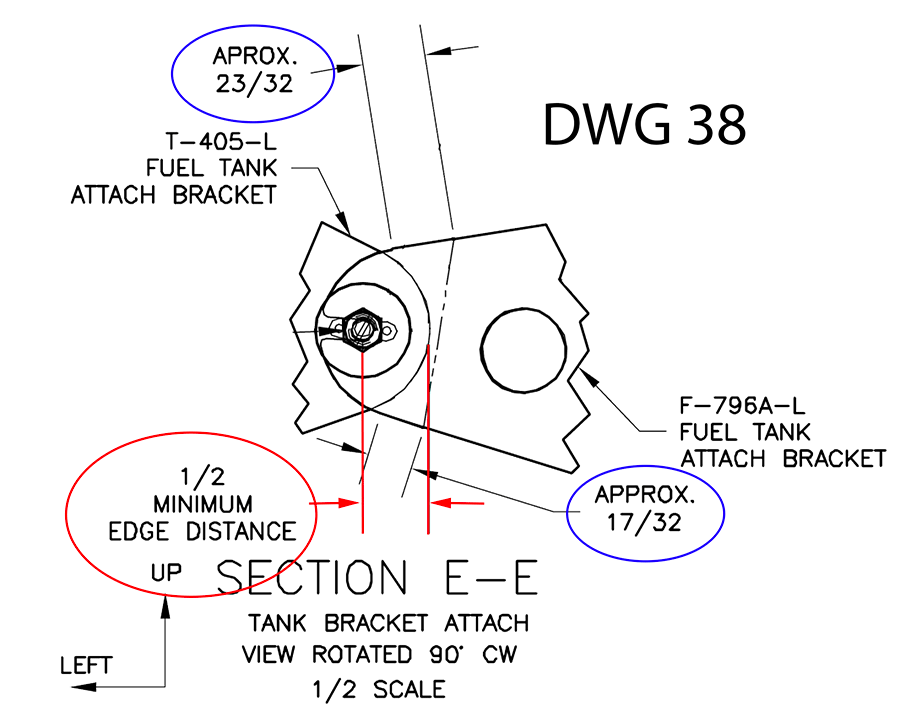 This is for the RV-7/A tank bracket edge distance issue.
__________________
Michael Fleming
Joseph, OR
sagriver at icloud dot com
RV-7 Slider #74572
Started 11/2016
Empennage completed 11/2016 (sans fiberglass)
Ailerons and flaps completed 3/2017.
Wings completed 12/2017
Started on QB fuselage 01/2018
Donated for 2020 and so should you